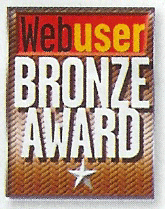 A general purpose site comprising news, reviews, tutorials, forums and a web gallery. What we liked:
Crammed with links, DCViews manages to pack loads of info on the homepage, minimising the number of clicks required to get to what you want. The News section is sensibly divided into Camera News and Digital Imaging News, while camera specs and tests are listed by brand and grouped by number of megapixels.
This core of home-grown material is supplemented by dozens of links to digital photography sites - a cunning and effective way of adding lots of new content without having to produce it themselves. Think of it as a news-pooling service for digital photography updates. They link to most of the best sites too. In the learn section, for example, there are links to the vast Kodak tutorials sites, and Canon's Digital Learning Centre.
DCViews' web gallery is provided by www.webphotoforum.com. where people are invited to comment on each other's work. Much of the content here is by beginners and novices, and is less professional than some of the work on Ephotozine.
What we didn't like: The link-dense front page looks like a bit of a dog's breakfast. The only content you can actually read is imprisoned in a small box in the middle ofthe page, which changes according to the links you click around it.