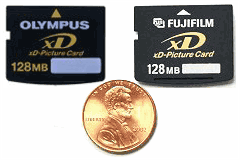 The xD-Picture Card, an ultra-compact memory card jointly developed by Fuji and Olympus, was introduced in the autumn of 2002.
The card is produced by Toshiba Corporation.
The name "xD-Picture Card" was inspired by eXtreme Digital, suggesting the excellence of this memory media for recording, storing, and transporting audiovisual information.
Main features of the xD-Picture Card
Ultra-compact 20.0 x 25.0 x 1.7mm size (volume of 0.85cc and a weight of 2g)
Planned maximum capacities of up to 4GB and more.
Expandable media solution with PC Card adapters and USB card readers, allowing easy interfacing with personal computers. A CompactFlash adapter is available that allows use of xD-Picture Cards in cameras designed for CompactFlash media.