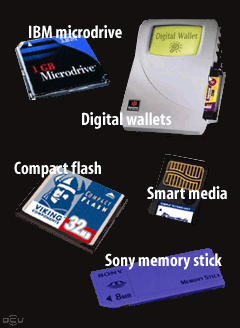 Digital cameras do not use film to capture images. Instead pictures are saved on some form of internal storage media or memory cardsspan. Capacities range from 64Mb to 4Gb and are increasing all the time as technology progresses. There is even a 6Gb Microdrive available for use in certain cameras and Sandisk already sell an 8Gb card in their ExtremeIII series. It won't be long before this too will be replaced by even larger cards.
CompactFlash cards are now being replaced by the smaller SecureDigital / MultiMediaCard and xD-picturecard in most digital compacts nowadays, whereas Sony uses its own MemoryStick.
Digital cameras mostly come with a small memory card or even without one. It pays to buy a large capacity card straightaway so you never run out of "film".