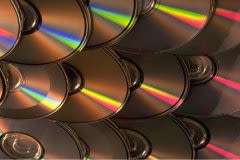 When you have taken lots of images and stored them on your computer, it would be a shame to leave them lying around just like that. You could use your creative powers and turn your images into a multimedia CD or DVD slide show and view them on screen. Programs are available which let you compile a slide show without too much trouble.
However if you have a drawing package of some sorts, take a look and it may well have its own slide show feature included or you could download free programs from the Internet. You can select images you want to include, determine intervals between them, and add graphics, music or sound. It is also possible to create something extra-ordinary by including special effects or unique picture frames. This would be a nice idea for making a presentation of a wedding or a special anniversary.
You could even try to create a heritage album on CD/DVD in which you trace back the family's history and illustrate it with images taken at key moments in their lives. The possibilities are endless. It would surely make a gift your relatives will treasure forever. You can also produce a CD/DVD slide show to impress business clients with a catalogue or new product. If you create an autorun.inf file on your CD/DVD it will start automatically once it is put into the drive.