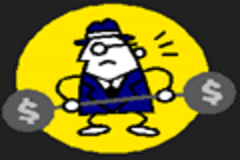 BP - tekst aanpassen en echt cartoon character vinden
There is a danger lurking that you have entered in an adventure that will keep you worrying for many a month to come. You've seen an ad or a friend has shown you his latest digital toy and you've decided that you must have one too. You'vre going to search the Internet in order to find some solid advice on what camera to buy, but each day you end up more confused than the one before.
First of all, you probably have already allocated a budget for your new aquisition. You should however be aware of the fact that there will be some extra costs associated with this first buy. You'll most likely end-up with some extra media cards, some additional batteries, a fast battery-charger, a nice carrying bag and you even consider buying some extra storage in your PC to speed things up a bit and yes, a larger monitor would be nice as well. Then, if you start printing your own photos, you will realise that your good old printer does not deliver these excuberant pictures that you were hoping for and in this process of trial and error you've used more color cartridges in the last month than in the three years that you own the printer. Therefore, to avoid unpleasant surpises, as a rule of thumb the price of your camera should not exceed 50% of your total budget. The next step is similar to the process of finding your first boy- or girlfriend. You look around in your league, you show a bit more interest in those candidates that appeal to you right away. After a little closer examination you make your choice and you're hooked for the first time. You realize that this is your first love, and in the back of your head you know that it probably won't be your last. So, now that you have a price bracket for your new camera, you look at all the cameras in this league and select the 3 cameras that appeal to you most. By the way, if you're not on a constraint budget, stop here and go buy all three. Otherwise read on to see what Camy has to say on this subject.