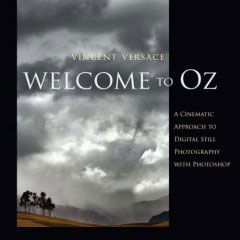 Creating memorable photographs is a process that starts before you edit an image in Photoshop, before you capture the image, even before you pick up the camera.
You must first approach the subject with the proper sense of perception, with the ability to visualize the finished print before you commit a scene to pixels, but still be flexible and spontaneous.
Master Fine Art photographer Vincent Versace has spent his career learning and teaching the art of perception and how to translate it into stunning images. In Welcome to Oz, he delves into what it means to approach digital photography cinematically, to use your perception, your camera, and Photoshop to capture the movement of life in a still image.