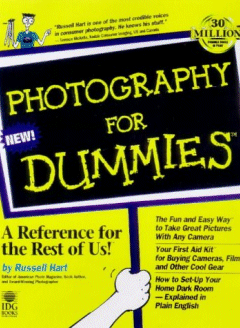 The inimitable Dummies format, which has distilled everything from the Internet to Italian cooking, is an excellent way to organize information for photographers. The chapters cover single topics like film, flash, and composition, and are easy to both access and understand. Icons (which are defined in the introduction) call out "tips," "technical stuff," and "bloopers."
The layout is designed for quick reference while you're shooting, providing, of course, that you care to lug the book with you.
Writer Russell Hart, who is the technology editor for American Photo magazine and an exhibiting photographer, takes readers from the very basics right up to a glossary of "photo jargon".