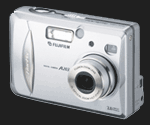 Fujifilm's FinePix A203 offers the following features:
Imaging
2 Mp CCD - 3x optical zoom
Movie recording
The FinePix A203 records 20-second movies (without sound) at 10 frames per sec. in 320 x 240 resolution and 80 seconds at 160 x 120
Video Conferencing
PC-cam capabilities - the cameras are  equipped with videoconferencing capabilities to create messages or communicate in real time with friends and family.


Power source - The FinePix A203 and FinePix A303 are designed to consume very low power, both powered by 2 "AA" batteries, enhancing the lightweight and compact qualities of the cameras and making them the only cameras in their category to require such little power to operate.