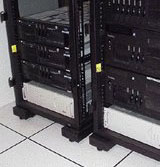 January 28 , 2003
Today, at  09.30 UTC, our website has migrated to a dedicated server, operated by Multrix, located in Amsterdam, Netherlands.
This migration will cause minimal user impact.
You will be automatically routed to our new server and apart from some initial reloading of pages and images, the whole process should be transparent.