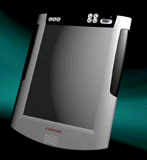 June 3. 2002
HP announced a relationship with Transmeta Corporation to use its 1 GHz Crusoe processors to power HP's new Compaq Evo Tablet PC.
Comparable in size to a pad of paper, the device is a fully compatible Windows XP PC that allows users to write directly on the screen. With this innovative ability, common business tasks are made more efficient.
Compaq will deliver a Tablet PC in the 2nd half of 2002.