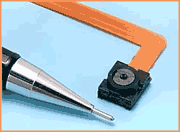 May 29, 2002
Fujitsu announced a CMOS color image sensor module for mobile phones and PDA applications.
The 110,000-pixel unit offers high sensitivity and low noise, and a built-in lens in what is today the world's smallest, lightest, and lowest-power module of its type.
The package measures only: 7.80 x 6.98 x 3.95 mm.
What's the next step, a digital camera in your pencil ?