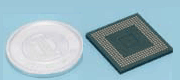 April 9, 2002
Fujitsu Limited today announced that it has developed two single-chip system LSI devices for use in digital still cameras, from single-lens reflex models to compact viewfinder models.
The new chips integrate both the image-processing functions and the general purpose processor that had previously been split among multiple chips, thus saving space, reducing power demands and reducing parts.
The chips process up to six 2.5 Mp image frames per second and  640x480 images at 30 frames per second.