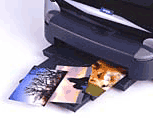 March 7, 2002
Ian Burley, over at DP-Now has taken a first look at Epson's ground-breaking new A4 photo inkjet printer.
His preliminary conclusion:
Very impressive so far !
On paper alone, the Epson Stylus 950 Photo is a formidable piece of kit. Epson has already led its competitors with borderless printing, for example and the undoubtedly we should expect the 950's CD printing and maybe paper cutter features copied by others…   Click the image for the full article.