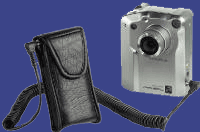 Fuji introduces the
PowerPack FPP5V,
a 3000 milliampere
accumulator which increases the potential operating
time of standard digital cameras by about 300 percent.
The Power-Pack can be used in conjunction with
virtually all digital cameras that are currently on the market and use four mignon batteries and a standard power adaptor. The pack will set you back € 99.00.