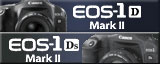 June 23, 2005 - 07.45 GMT
Canon has released a firmware update for the EOS-1D Mark II and the EOS-1Ds Mark II.

This new firmware fixes a problem introduced with the firmware update which was released last month.

This version fixes a problem when pressing the DISPLAY button right after shooting images resulted in an abnormal display and the camera would freeze.