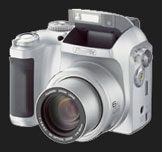 Fujifilm today builds upon a proven formula, with the launch of the FinePix S3000 Zoom, a camera that combines simplicity and optical power in an SLR-style silver package.
This digital camera guarantees all the ability of its predecessor, the immensely popular FinePix S304 Zoom, but one subtle enhancement makes it an even more tempting proposition.

The three million pixel FinePix S3000 Zoom offers you the chance to view your images 'larger and faster' with the introduction of a Video Out socket. The addition of this feature heralds the return of the slide show, allowing you to take a break from your keyboard, and reaquaint yourself with your sofa. This Video Out socket means you can join friends in the comfort of your lounge, and watch stills and movies captured just moments earlier appearing larger than life on your TV screen.