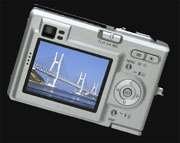 January 19, 2004
Casio releases new firmware for the EX-Z4. The improvements provided by update version 1.02 are:  
• Improves white balance performance.
• Fixes a problem that occurs in the Voice Recording Mode when memory becomes full.
The update is available to registered EXILIM owners whose camera is still running Version 1.00 firmware....