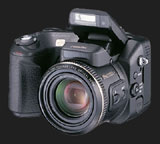 July 29, 2003
Fujifilm announces the first digital camera to carry the second of its two proprietary Super CCD HR (High Resolution) sensors. The chip provides the Fujifilm FinePix S7000, with 6 million effective pixels to create rich, life-like images with 12 million recorded pixel output – the highest resolution image files available to consumers. The FinePix S7000 also offers advanced exposure control and wide aperature 6x optical zoom and 3.2x digital zoom in a compact SLR-inspired styling.

The FinePix S7000 offers 6.3 million effective pixels, which can produce images of 4048 x 3040 (12.3 million) recorded pixels for best-quality prints up to 20 x 30 inches in size. In addition to powering the camera's ultra-high resolution, the Super CCD HR sensor provides the rich color reproduction and life-like detail that Fujifilm is known for in captured images.

"Simply put, the FinePix S7000 is an amazing new camera for the photo enthusiast," said Darin Pepple, Marketing Manager, Consumer Digital Cameras, Photo Imaging Division, Fuji Photo Film U.S.A., Inc. "Its' unique resolution power and long zoom, combined with best-in-class color and full manual controls make it a great camera for the consumer who wants a total photography experience. The FinePix S7000 demonstrates Fujifilm's ongoing commitment to technology and its leadership in the consumer space."

Fujifilm's FinePix S7000 digital camera offers the following array of features:


Increased resolution and reach – The first consumer digital camera to produce output files of 12.3 million recorded pixels, the FinePix S7000 is the first camera to carry Fujifilm's second Super CCD HR (High Resolution) sensor. The camera maximizes 6.3 million effective pixels to produce a true-to-life 4048 x 3040 (12.3 million) recorded pixel output file. The camera also offers a long reach wide aperature 6x optical and 3.2x digital zoom, and works with optional wide and telephoto lens adapters, allowing photo enthusiasts to capture long-range subjects.

Improved color saturation – The FinePix S7000's Super CCD HR sensor system enables the digital picture-taker to capture best-in-class color images with rich, vibrant colors that radiate in prints.

SLR-inspired styling – The FinePix S7000's traditional body provides a familiar feel to photo enthusiasts looking for a semi-professional grade camera. The camera measures 4.8 (W) x 3.2 (H) x 3.8 (D) inches, and weighs 17.6 ounces without batteries and media.

Full manual controls – Consumers who want maximum image control will be pleased with the FinePix S7000's fully manual controls. The camera offers a range of special shooting modes including continuous focusing, continuous five frame 12MP shooting, auto bracketing and custom white balance. In addition, shutter speed, aperture range and focusing systems can be manipulated. The FinePix S7000 also offers photo enthusiasts the ability to capture images in CCD-RAW format, and may use the included FinePix Viewer software to convert to TIFF files.

Dual slot – The FinePix S7000 has dual slots for xD-Picture Card and Microdrive, providing consumers with flexible storage options.

Movie recording with sound – The camera offers full VGA movie recording at 30 frames per second with sound, allowing consumers to capture everyday events and special moments to play back for friends and family at a later date. The FinePix S7000 can capture 13-second 640 x 480 pixel movies, and 26-seconds at 320 x 240 pixels with a 16MB xD-Picture Card. If a 512MB xD-Picture Card is used, movies of 7.4 minutes at 640 x 480 pixels and 14.6 minutes of 340 x 240 pixels can be captured. Movies can be burned onto CD-ROMs for storage using the ImageMixer VCD for FinePix software included with the camera.
The FinePix S7000 comes bundled with a 16MB xD-Picture Card, four AA alkaline batteries, shoulder strap, USB cable, AV cable, FinePix Viewer, and ImageMixer VCD for FinePix. The camera will be available for purchase in October 2003 at the suggested list price of $799.95.

Fujifilm Makes Digital Photography Easy:

Now, consumers can get high-quality photos produced from their digital cameras just as easily as they get pictures from film cameras. It's as simple as bringing their media storage card to one of thousands of Fujifilm Digital Camera Developing services providers nationwide. Consumers are encouraged to visit www.digitalcameradelveloping.com to find a retailer in their area offering Fujifilm Digital Camera Developing services.

To help simplify digital camera technology and educate consumers about the choices available to them, Fujifilm is now traveling the country for a third year with its "Picture of America™" Tour featuring its FinePix Truck. The tour highlights Fujifilm's complete line of shoot, store, print and share digital photography solutions. Details about the truck, as well as information about where it will be next, can be found at www.fujifilm.com/finepixtour.