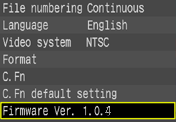 November 25, 2002
Canon has released firmware version 1.0.4 for the EOS D60, to resolves issues, which may occur in the RAW mode depending on shutter release timing:
1. Thumbnail is black - Only the thumbnail image is affected, there is no problem with the main image.
2. Data is not written to CF card - when buffer data has not yet been written, it's written when the menu button is pressed, or the shutter button is pressed halfway.