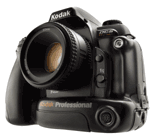 September 24, 2002
Kodak announces the new DCS Pro 14n camera, an SLR with the industry's first 35-mm size CMOS sensor
The new DCS Pro 14n is Kodak's professional digital camera and is primarily designed for professional photographers, but will be popular with enthusiasts as well. Built on a Nikon lens mount, it adds speed and quality, with FireWire connectivity at a 12 MB per sec.
The estimated street price is near USD $4,000.