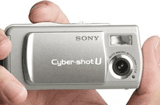 September 23, 2002
Sony announces the Cyber-shot U® DSC-U20, a new Quick-on-the-draw camera ready to snap digital still images and record MPEG movie clips.
Equipped with a 2.0 megapixel CCD image sensor the DSC-U20 model is capable of capturing a photo with a maximum image size of 1600 x 1200.
The Cyber-shot U DSC-U20 camera will be available in October for about $270, the 1.3 Megapixel Cyber-shot U DSC-U10 camera is already available for about $200.