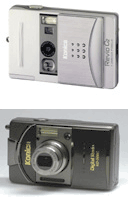 September 22, 2002
Konica will introduce 2 new cameras at the Photokina.
The Revio C2 is a simple 1.2 Megapixel, credit card format entry level camera.
The Revio KD-500Z is at the moment the World's smallest 5.0 Megapixel with 3x optical zoom camera on the market.
Within 1.3 seconds it's ready to store your images on an SD MemoryCard or MemoryStick.