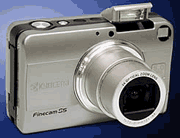 August 20, 2002
Kyocera Europe has pre-announced three new digital cameras for this year's PhotoKina.
Kyocera increases their range of digicams with check card sized 3 and 5 Mp digicams.

The Finecam S3L and S5 (picture) for amateur photo enthusiasts and the Contax TVS digital with 5 Megapixel for the semiprofessional use...