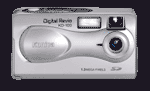 June 28, 2002
Konica Europe announces
a new entry level camera:
the Digital Revio KD-100.

This 1.3 Mp (1280 x1024) camera has 2x digital zoom, 1.5-inch color LCD, 8MB built-in memory and uses SD cards for image storage. Digital video capture is supported in AVI format (15fps).

The dimensions of the KD-100 are 106 x 65 x 35 mm,
it weights 120 grams and is powered by 2 AA batteries and connects though USB or Video.