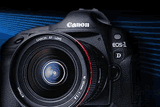 July 30, 2002  
Canon has improved the EOS-1D's firmware and driver software for better performance and greater functionality. Owners are urged to install firmware and the driver software to utilize following new features:
1. Noise reduction tone curve settings added to menu
2. Continuous shooting with Remote Capture 2.5+.
3. Exif 2.2 (Exif Print) is supported.
4. Windows XP support - Direct connect via WIA 4.5
5. Camera settings metadata has been modified.