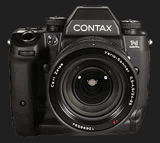 July 29, 2002
Kyocera Japan recalls the Contax N Digital to resolve the following three issues:
Firmware update:
Data on the photo settings is incorrectly written into the image's EXIF header.
Parts replacement:
To fix the problem whereby operation of the camera is halted under certain low battery power conditions.
Additionally, a metal guide is added to the battery compartment to prevent incorrect battery placement.