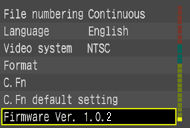 July 10, 2002

Canon announces a new firmware update, version 1.0.2, for the EOS D60. Following problems are fixed by this firmware update:

1. Underexposure may occur in low light situations
   when the SI (Superimpose) display is ON
2. Duplicate file numbers may occur when more than
   100 images are recorded per folder.