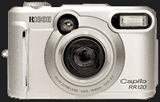 Hannover, March 11 2002
Today Ricoh announces the release of the new Caplio RR120-a fully featured, compact digital camera with a high definition 2.2-megapixel CCD and powerful 6x zoom.

The Caplio RR120 is the third model in the Caplio digital camera series, after the Caplio RR1 and Caplio RR10. Ricoh's latest creation accepts SmartMedia cards of up to 128MB and gets its power from 4 AA-Size batteries.