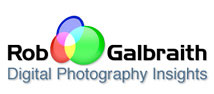 The site known originally as robgalbraith.com was first launched in 1996, as an exercise in self-publishing documentary photo stories.
It has now evolved into an online resource for the seasoned and professional digital photographer featuring regularly-updated news and discussion forums to exchange ideas and experiences amongst peers.

In 2003, the site was renamed Rob Galbraith Digital Photography Insights, to emphasize its mandate of providing reliable, practical and insightful information on digital photography, cameras and technology.

The Performance Database for CompactFlash and Secure Digital flash memory cards is a regularly-updated compilation of write and read speed test results designed to aid in selecting camera storage media for a Canon, Fujifilm, Kodak or Nikon digital SLR.

Rob Galbraith, currently working as a freelance editorial photographer, digital photography trainer and workflow consultant, is the founder of the website. His work on the site is now a part-time team effort, with the support of co-editor Mike Sturk and staff-writer Eamon Hickey.