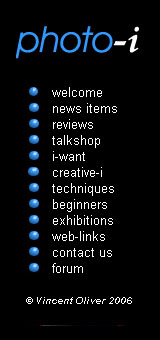 photo-i is a straight-forward, no-nonsense website that covers a unique territory related to the digital camera world. You'll hardly find such in-depth reviews of scanners and printers and interesting publications and articles on subjects such as printing, sotware and color management. The photo-i brand has been expanded into DVD video productions, a series of photography DVDs has been launched in 2006.

Owner and editor, Vincent Oliver has been a professional photographer for 30 years. Over the last few years he has been specialising in digital imaging and has been acting as a consultant to most major manufacturers, as well as writing for several specialist imaging publications.

His photographic work has been varied with working as freelance for most TV publications and TV companies. He has exhibited his work at many places including the Photographers Gallery, London, at various arts galleries world-wide, and at the Royal Academy of Arts in London.