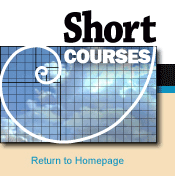 Need help! Want to get better photos with your digital camera?  The manuals that come with your camera are often poorly written and hard to understand. In addition, they usually describe what each camera control is, but don't explain how to use it creatively to get better pictures.


The Short Course camera books take away the confusion and show you how to use all of the controls on your camera to get more creative and exciting images. The list of books is continually expanding, and there is even a generic edition for you to use if we haven't published a book for your camera.


To learn more about these exciting titles, read the online books or to order copies: Dennis Curtin's shortcourses.com is the right place.